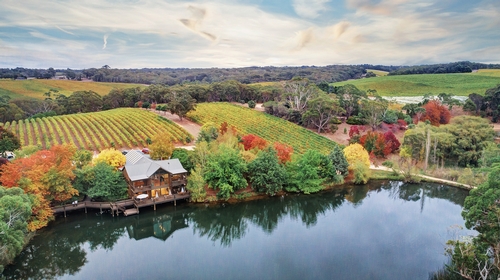 After studying viticulture and wine in SA during the late 1970's Geoff Hardy in 1980 purchased and developed the Pertaringa Vineyard in McLaren Vale with Ian Leask. At this time Geoff started looking through the southern Adelaide Hills for the ideal terroir for growing early premium wine varieties, as Mclaren Vale was too warm to grow elite Chardonnay, Sauvignon Blanc and Pinot Noir. Finally in 1986 after looking at many properties Geoff found an ideal site for producing outstanding cool climate grapes in Kuitpo, an ancient geological area 15 kilometres inland from McLaren Vale.
The vineyard Geoff planted later became known as 'K1 by Geoff Hardy' as this unique site was the first substantial planting of vines in the Kuitpo region.
Today, the K1 wines are considered to be some of Australia's finest premium, single estate wines. The beautifully situated cellar door overlooks the lake and vineyard, and has been recognised as one of Australia's Top 10 Cellar Door Experiences by a leading wine industry publication.
In 2012 and 2014, Winestate Magazine named K1 and Wines by Geoff Hardy as its Australian Winery of the Year. Australia's most prominent wine writer, James Halliday, has also rated Wines by Geoff Hardy as a 5 red star winery, a top rating only awarded to 10% of wineries in his Wine Companion.