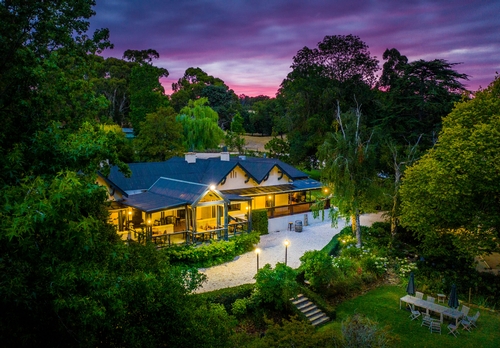 Cobb's Hill Estate has a rich history dating back to 1854, including providing pasture for Cobb & Co. horses employed for pulling stagecoaches through the Adelaide Hills from 1867.
Today Cobb's Hill Estate is set on 250 acres, (100 hectares), of quality farmland, with over 50 acres of vineyards and a herd of black angus cattle.
Our ten vineyards are planted with Sauvignon Blanc, Riesling, Chardonnay, Pinot Gris, Pinot Noir and Shiraz vines.
The new Cellar Door and Bed & Breakfast, located in the old homestead, is set amongst a botanical garden. Combined with walking trails and panoramic views, you can enjoy your own country estate for a while. Only 30kms or 30 minutes from the Adelaide CBD. Relax with homegrown premium cool climate wines and gourmet platters and cold beverages. Our selections are available in a picnic basket.
Wine selection: Sauvignon Blanc, Chardonnay, Pinot Noir, Shiraz and Methode Traditionelle Sparkling. Platter selection: Dukkah, Mezze Meats, Cheese, Stockman platter and Dessert platter.
Beverage Selection: Coffee, Tea, Hot Chocolate, Soft Drinks, and Sparkling Water.
Relax inside and out at the bar or table, on the lounge, under the trees or with a friendly game of petanque.
Stroll through the gardens, picnic by the pond or walk by the vineyards and along the creek. It's up to you.
Our Cellar Door team are committed to the best service and a memorable visit.
Our Cellar Door is open Monday 12pm to 6pm Tuesday and Wednesday by appointment Thursday 12pm to 6pm Friday 12pm to 6pm Saturday 11am to 6pm Sunday 11am to 6pm at 382 Swamp Road, Oakbank, South Australia.
Soothe your soul in the heart of the Hills!